Febco 765 Pressure Vacuum Breaker Repair
| | |
| --- | --- |
| Did your 765 freeze? Is it leaking? You can fix it yourself and save hundreds of dollars of unnecessary costs and get the job done in a matter of minutes. See the parts list below and get what you need shipped out today! | |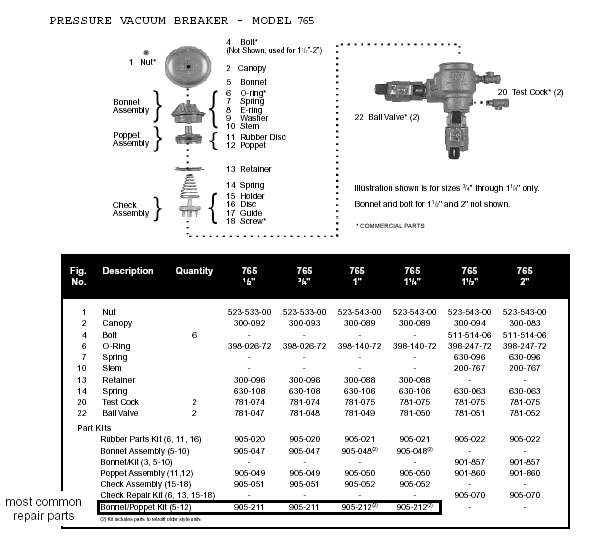 Download the Repair and Installation Manual for Febco 765 Pressure Vacuum Breaker (PDF, 185K)
Download the Blowout Instruction Sheet for Febco 765 Pressure Vacuum Breaker (PDF, 50K)
Need help determining the size of you 765?
Sizing and ordering the bonnet / poppet repair kits can be done at our online store:
We can ship your order the same day we receive it via UPS. We accept visa/mastercard/discover/american express and PAYPAL in our new store at shop.watermeters.com
Feel free to call us toll free 800-654-3733 if you have a question on this or any one of our many water and oil metering products.

www.backflows.com www.backflowpreventers.com www.watermeters.com

Daniel L. Jerman Co., 275 Railroad Place, Hackensack, NJ 07601
Phone 800-654-FREE (3733) Fax 201-487-3953 International Phone 201-487-7444

Contact us via e-mail by clicking here