www.repairclamps.com


From the company that pioneered the flexible stainless steel pipe repair clamp in 1957
For any inquiries, please email us with your specific requirements

information that will help us serve you better is the model number, pipe size, type of pipe or outside diameter, length of clamp and the quantity needed. Also, let us know if there are any temperature requirements or fluids other than water going through the pipe. Please also click on the specification links below by each clamp style to see what is available and to help aid in your selection.


DLJ 220 Stainless Steel Pipe Repair Clamps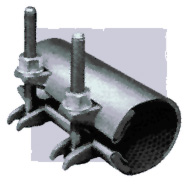 DLJ 220 Stainless Steel Pipe Repair Clamps have provided for over 40 years a fast, economical means of repair for pin holes, punctures or splits in pipes. Innovative design, extensive testing and state-of-the-art manufacturing combine to produce our 220 Pipe Repair Clamps with high performance characteristics.The gaskets have a smooth surface covering almost 360 degrees that will conform to irregularities on the pipe surface and provide a superior sealing ability on rough or pitted areas.The bands are stainless steel, selected to meet the exacting requirements of corrosion resistance, flexibility and strength.The lugs are precision cast ductile iron with a contoured surface to equalize clamping pressure around the pipe. The lug design includes a drop-in bolt feature that eliminates loose parts, saves time and aids installation under adverse conditions. Drop-In Carbon steel bolts are electro-galvanized with di-chromate seal to resist corrosion and have a generous shoulder that insures a positive fit in the open slot to secure against turning during maximum tightening. This is the clamp used by the US Navy for over 40 years for shipboard damage control. The rubber is only part of the circumference, not for 360 degree sealing. For full circumference sealing see 226 Stainless Steel Pipe Repair Clamp directly below or the new model 244. In stock up to 12" pipe size for immediate shipment, up to 36" pipe size on special order.
Link to DLJ 220 Pipe Repair Clamps Specifications, Model Numbers and Ordering Information

NOW AVAILABLE IN FULL SEAL DESIGN FOR 1/2" to 2" - SPECIFY MODEL 244
---
DLJ 226 Stainless Steel Pipe Repair Clamps
Full Seal Pipe Repair Clamps are flexible stainless steel repair clamps consisting of one or more stainless steel band sections to which cast lugs are securely attached to accommodate drop in bolts and nuts for the purpose of mounting the clamp on pipe. It has a full encirclement tapered, over-lapping, gridded gasket with a flush mounted, bonded-in stainless steel bridge plate to span the band opening between the lugs provide a full circumferential seal on the pipe. Fast, Easy and Permanent, usually outlasts the pipe on which it is installed. A Full Seal Pipe Repair Clamp is fast and simple to install, and requires no special tools. The clamp is wrapped around the pipe, properly positioned over the area to be repaired or connected, and the bolts tightened. This compacts the rubber gasket tightly against the full circumference of the pipe wall forming a leak resistant seal. A Full Seal Pipe Repair Clamp can be installed under pressure by assembling next to the break loosely, slide over the break or hole and tightened. The Full Seal Pipe Repair Clamp method of pipe repair is a quick, long-lasting, economical solution to pipe repair problems.



226 Single Panel Ductile Iron Lug

Material Specifications

PANEL:

Stainless steel type 304 per ASTM A 240

GASKET:

Type SBR 1/4" thick gasket per ASTM D 2000
Compounded for water and sewer service

LUGS:

Ductile Iron per ASTM A 536

BRIDGE PLATE:

Stainless steel type 304 per ASTM A 240

BOLTS & NUTS:

High strength, low alloy steel per ASTM A 242 and AWWA C111.

TEMP. RATING:
-40 F to 180 F
The Full Seal Pipe Repair Clamp method means:
Minimal pipeline downtime - one man with a simple wrench can quickly install any full seal clamp coupling.Lower material and labor costs - each size fits a range of pipe types within its range, and can be used for repair, joining or tapping.Less crew, equipment, excavation and scheduling complications - once the damaged pipe is exposed, one man can make the repair.No need for extra pipe fittings - flexible Full Seal Pipe Repair Clamps are able to conform to pipe irregularities and provide an efficient leak resistant seal.No need for complete line shutdown and possible contamination - Full Seal Pipe Repair Clamps can be installed quickly and easily either out of water or underwater; tightening the centermost bolts will usually stop the flow of water and then the other bolts can be equally tightened.No special tools or skills required for installation - anyone with minimal pipeline repair experience can do the job.

Compare the ease of the Full Seal Pipe Repair Clamp to that of split mechanical sleeves or replacing a section of pipe with Dresser couplings and you will save time and money and have a permanent repair. In stock up to 12" pipe size for immediate shipment, up to 36" pipe size on special order.
Link to DLJ 226 Pipe Repair Clamps Specifications, Model Numbers and Ordering Information


www.repairclamps.com
www.pipeclamps.biz
www.pipeclamp.biz
www.jerman.com
Division of Daniel L. Jerman Co., 275 Railroad Place, Hackensack, NJ 07601
Call Toll Free 800-654-3733 Fax 201-487-3953 Contact via e-mail

Family Owned and Operated Since 1957