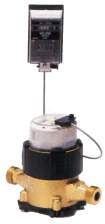 Kent Water Meters from
watermeters.com
the first and still the best online source
for water meters



both
cold water
and
hot water
models available
Kent Meter is your full line water meter supplier, from 5/8x1/2" to 20" and everything in between. And that means positive displacement, magnetic turbines and compound meters, fire hydrant meters, fire service meter assemblies, water meter pulsers, batch controllers, remotes, hot water meters, resettable meters, multi-jet meters, industrial turbine water meters, stainless steel meters, flow rate/totalizer indicators, 4-20mA signal outputs, electronic registers, remote counters, z plate strainers and many more products for measurement and control of fluids including water and oil.

Kent Meters up to 2" are C700 AWWA Positive Displacement, oscillating piston meters, a tried and true design in the waterworks industry. Visual Remote meters are in our stock and available for immediate shipment. You will be pleased with our low prices.

Specs on Kent Outside Visual Remote Water Meters
Throughout the Kent line you will find large, easy to read registers, hermetically sealed and nitrogen filled to resist fogging. Available in both direct read and visual remote styles to suit your application. Scancoder is also available to adapt to automatic meter reading systems. Leak detector trickle indicator is fixed to the center spindle to show even the smallest flow so you can show your customers the presence of a leak.
Water Meters Available In:
Links to Kent Water Meter Information

www.water-meters.com www.watermeters.com www.watermeters.net
www.oilmeters.com

We are located at Daniel L. Jerman Co., 275 Railroad Place, Hackensack, NJ 07601
Phone 800-654-FREE (3733) Fax 201-487-3953 International Phone 201-487-7444
watermeters.com the first and still the best online source for water meters